IObit Driver Booster Pro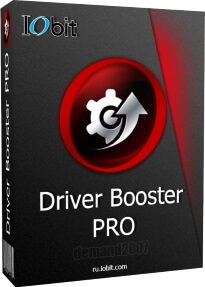 Год выпуска: 2017
Версия программы: 5.1.0.488
Жанр: Обновление драйверов
Разработчик: IObit
Язык интерфейса: Мультиязычный (Русский присутствует)
Разрядность: 32/64-bit
Операционная система: Windows XP, Vista, 7, 8, 8.1, 10
Тип издания: Лицензия
Лечение: Нет (30 дней)

Описание: Driver Booster — программа которая сканирует и определяет устаревшие драйверы автоматически, загружает и устанавливает обновления одним щелчком мыши, экономя Ваше время. Более того, он специально разработан для настройки драйверов для лучшей производительности в играх. Это правильный инструмент для защиты ПК от сбоев оборудования, конфликтов и сбоев системы.
Основные возможности:
Автоматически определяет устаревшие драйверы
Обновление в 1 клик для максимальной производительности оборудования
Тюнинг драйверов для быстродействия игр
Быстро, безопасно и просто в использовании.
Изменения в версии 5.1.0.488
Supported updating more drivers, including more Microsoft driver updates.
Newly supported custom skin color.
Improved 'Fix Network Failure' tool to fix 'Scan failed!' error caused by incorrect system time/date.
Optimized activation process to fix the occasional 'Invalid code' error.
Fixed all known bugs.
---
Скачать IObit Driver Booster Pro