IObit Driver Booster Pro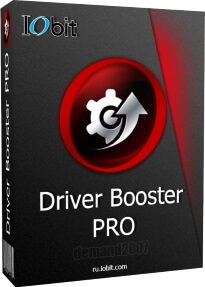 Год выпуска: 2018
Версия программы: 6.1.0.136
Жанр: Обновление драйверов
Разработчик: IObit
Язык интерфейса: Мультиязычный (Русский присутствует)
Разрядность: 32/64-bit
Операционная система: Windows XP, Vista, 7, 8, 8.1, 10
Тип издания: RePack (& Portable)
Лечение: Проведено

Описание: Driver Booster — программа которая сканирует и определяет устаревшие драйверы автоматически, загружает и устанавливает обновления одним щелчком мыши, экономя Ваше время. Более того, он специально разработан для настройки драйверов для лучшей производительности в играх. Это правильный инструмент для защиты ПК от сбоев оборудования, конфликтов и сбоев системы.
Основные возможности:
Автоматически определяет устаревшие драйверы
Обновление в 1 клик для максимальной производительности оборудования
Тюнинг драйверов для быстродействия игр
Быстро, безопасно и просто в использовании.
Изменения в версии 6.1.0.136:
Expanded database, esp. more stable drivers for audio devices.
More "Game Ready" drivers to support more games like Call of Duty: Black Ops 4, SOULCALIBUR VI, and GRIP. (Pro edition has the priority to get them at the earliest time.)
Added more solutions to fix various sound issues caused by Windows Update and other programs.
Enhanced the tools of Fix No Sound and Fix Network Failure.
Optimized Feedback.
Fixed all known bugs.
Особенности RePack by TryRooM:
Тип: установка, распаковка (Portable by TryRooM).
Языки: Multi/Русский
Лечение: не требуется. Patch-URET.
Удалены: модули ПНС и реклама.
Ключи командной строки:
Тихая распаковка: /VERYSILENT /Р
Тихая установка на русском: /VERYSILENT /I /RU
Тихая установка на английском: /VERYSILENT /I /EN
Не создавать ярлык на рабочем столе: /ND
Не создавать ярлык в меню «Пуск»: /NS
Выбор места установки: /D=ПУТЬ
Ключ /D=ПУТЬ следует указывать самым последним
Например: файл_установки.ехе /VERYSILENT /I /D=C:MyProgram
---
Скачать IObit Driver Booster Pro